What is Bukkake ?
The term "bukkake" is primarily known in English for its explicit sexual association, describing a fetish in which several people ejaculate on another person's body, usually targeting the face.

However, in its native Japanese context, "bukkake" functions as a verb meaning "to splash" or "to squirt" with a liquid, and it has non-explicit uses such as splashing water on someone's face or pouring sauce over food.

It is important to recognise that the sexual connotation of "bukkake" is largely a Western interpretation, and its everyday use in Japanese differs from its English counterpart.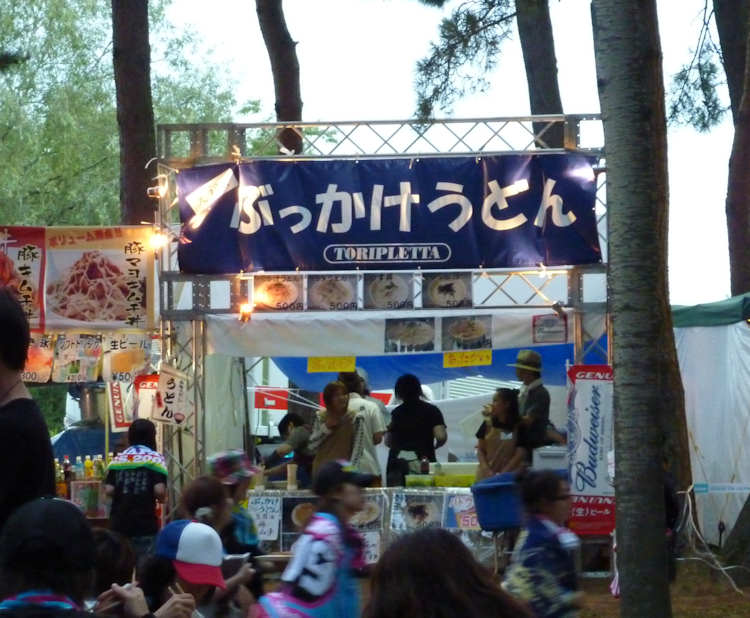 The word bukkake has a wide range of non-sexual uses in Japanese, such as this food tent advertising "Bukkake Udon Noodles".
Bukkake is even the name adopted by Irelands biggest gay club which has been running 15 years. Every Bank Holiday Sunday, Bukkake hosts a fabulous gay dance party, attracting all shapes and sizes of topless guys to hang out with.
So if you and your wife or girlfriend have ever fantasised about several men ejaculating all over her face and body then you are into bukkake.
There are a myriad of kinky variations of bukkake possible so why not join British Swingers for FREE and check out the thousands of UK bukkake contacts looking to hook up just like you.
UK Bukkake Contacts
Mature lady looking to fulfill my bukkake fantasy, Age 42, Single, Cardiff
Kinky blonde looking for secret fun with adventurous guys as long as it is discrete and respectful and you are clean.
Croydon slut wants her first bukkake, Age 27, Separated, London
I am very active and there are a wide range of things that I like to get into for fun. Maybe it would take forever to list them all. I am not greedy, but I am looking to have my first bukkake.